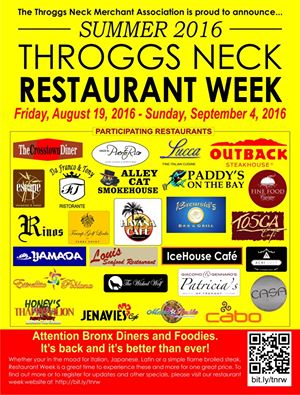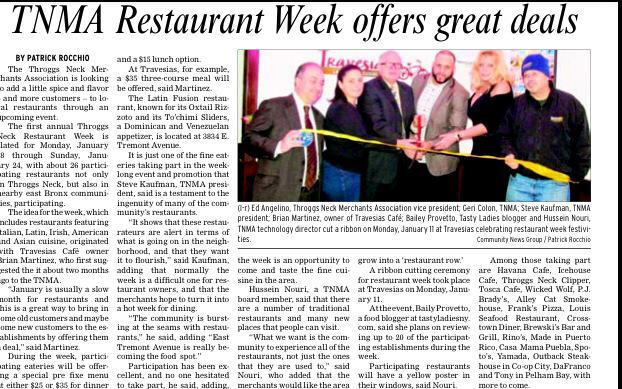 Past reviews of some of the participating restaurants!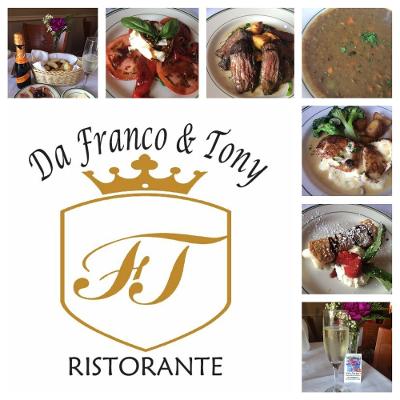 Bronx

,

NY

10461

(718) 684-2815

http://www.dafrancoandtony.com/

I found our new romantic Italian restaurant right here in the Bronx! Perfect for the upcoming Valentines day!! Better make your reservations now, because this restaurant will be booking up quickly when the word gets out!

Frank and Tony of Frank's Pizza on Middletown Road just opened up about a month ago, an Italian Restaurant called Da Franco & Tony Ristorante and I am very happy they did! From the moment you enter this beautifully decorated venue, you feel the romantic ambiance around you!

Brick walls and a corner bar, fireplace and beautiful pictures , sconces and decor make this small restaurant special! Each table has fresh white linens, fresh flowers in a crystal vase, leather bound menus with gold lettering and a bottle of wine at each. Music is played at the right level and is appropriately serene for dining!

Our waiter Angel was a wonderful waiter. Knowledgeable in the special menu and passionate with his descriptions of the different dishes. He was a top notch server who did not miss a beat with his care of our dining experience!

We met the owner Franco and was given a warm welcome and pleasant conversation of the history and beginning of this restaurant. He was very Suave and charismatic!

We started with the soup of the day, Lentil soup that was very good with spot on seasoning of fresh herbs and tender lentils!! A really nice soup to warm the cockles of your heart!! We also ordered the Mozzarella Caprese, the warm creamy buffalo mozzarella on top of beefy ripe tomatoes with red peppers, prosciutto, and fresh basil! Perfect to go with their home made seasoned bread!!

My ever constant companion ordered his chicken Parmigiana which was not on the menu but like any great restaurant, they accommodated his request beautifully with a huge portion of bone in chicken parmigiana that was so tender, juicy with an amazing red sauce atop with gobs of delicious melted mozzarella!! It came with a side of pasta and was rated by my chicken parm connoisseur partner a 9!!!

I decided on the Vitello Con Melanzane which was Veal Scaloppine of Prosciutto with Wine, shallots, eggplant and Mozzarella that was so perfectly cooked, I was in heaven! The veal was so nice and thin and tender soaked with the wine sauce, it melted in my mouth!!

The presentation of all the cuisine was beautiful, and looked like they were taken out of a magazine! The lunch portions were very generous and priced nicely!!

Even though we could not even finish our entrees, we had to try their Italian Ricotta Cheesecake that was made on the premises like most of their desserts and was delicate, and a slice of heaven with home made whip creme on the side,

In the spring they will be having outside seating both in the back garden and cafe style in the front. They will also be starting a brunch on the weekends.

Do you and your loved ones a favor and experience this Top Notch Romantic Italian restaurant right here in our neighborhood at 2815 Middletown Road.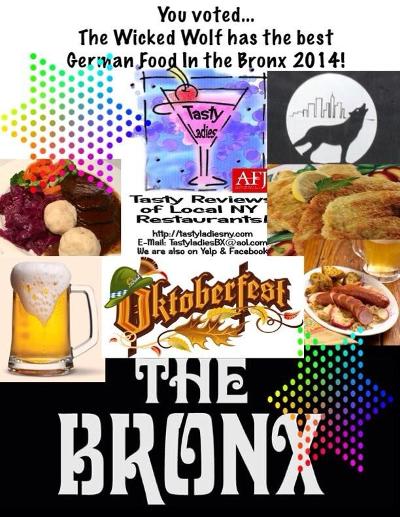 4029 E Tremont Ave
(718) 829-4400
Went to check out the restaurant everyone is voting for "Best German Food in the Bronx".
Being a German girl I am very critical about my Sauerbraten and vienersnitzle!! After having their Sauerbraten, red cabbage and dumplings, I can say "Wunderbar"!! The meat was so tender and taste surpassing my German mothers! ( sorry mama)! Paired with Blue Moons pumpkin beer called Harvest moon special for the season, rim dipped in cinnamon, this was a meal made in heaven!! Even the chicken veggie soup was think and rich and tasted homemade seasoned with a moms love! My partner being Italian ( just can't change some) ordered penne with vodka sauce and chicken that was absolutely delicious and huge!! The vodka sauce was amazing and rich, the chicken was tender and seasoned just right!!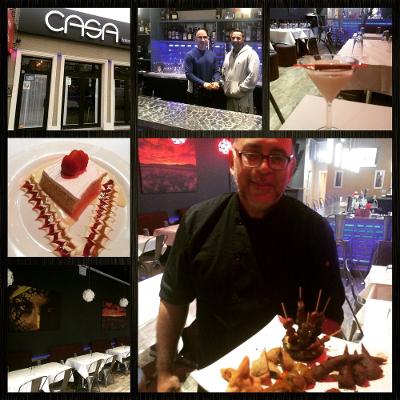 (718) 792-2272
http://casabx.com/
Mi Casa es su Casa! The old saying came true for me from the first moment I entered this new exciting restaurant/lounge on Tremont Avenue in the Bronx!
Owners Sammy Beltron and his lovely wife Vanessa and his partner Arnold Rodriguez created a Manhattan-posh, serene ambiance with the decor of dark charcoal grey walls adorned with comfy booth seating all around the restaurant with warm red hanging lights and modern art amplifying the mood.
The long bar is complimented by cool blue lighting below and whimsical rectangular cylinder clear lights with crystal bubbles that just make them pop!
Our server Ivanna was a sweetheart that really knew the menu cuisine and suggested I order a sampler platter of five different Latin tapas that are popular which was the perfect idea!
Jamie the bubbly and nice bartender is also a expert mixologist making a perfect mint Mojito for me while I waited for my food.
Chef Fernando Garcia, seasoned chef experienced in many prominent restaurants here and in the Dominican Republic, presented a sampler of five gorgeous Latin tapas which was explained in detail by the Chef!
A gorgeously presented plate of Pionono ( Sweet Plantain with Beef), Skewers of beef, chicken and chorizo on a slice of pineapple, Beef Acapurias (mashed plantains, yucca and potato with ground beef) and my two favorites were the Bacalaitos which were delicious crispy Cod fritters with a horseradish and lime aioli to compliment! The other favorite was the mini trio of Empanadas with chicken (with olives and capers), Beef ( Ropa Vieja with peppers and onions) and the Vegetarian ( spinach with cheese) with a red pepper sauce.
I can't wait to return to try more from their menu of Latin Tapas, salads, Latin Pots, Chicharrones ( especially the Casa Spring rolls) and side dishes!
I ordered the perfect ending to this meal, I thought, of their Tres Leche, but then I was presented by Jamie with their signature cocktail called "Casa Blanca" which is a light but decadent cocktail best described as a Toasted Almond with a splash of fiery cinnamon adorned with a cinnamon stick! This Tastyladies NY is not easily impressed by new cocktails, but this winner is my new favorite!
With an addition of a party room and brunch on weekends in the future, this new find will be a place to drink, eat and be very, very Merry!
Be on the look out for their ribbon cutting and Grand opening soon!

(718) 597-3450
http://crosstowndiner.com/
Stopped by my favorite diner in the Bronx last night, their food is always fresh and good and so many choices it takes you awhile to read!!
Had their matzah ball soup that was satisfying and delicious! After their turkey club with potato salad and side cole slaw and pickle! Sooooo much food, I'll be having food for a couple of days! The turkey was so fresh and tasty and juicy, it was like the day after thanksgiving!! My partner ordered the brisket on a rolls with a side of gravy which was very nice as well! Even their Pinot Grigio was good and only $4.50 which it should be! Kudos to a great diner! Plus they do a lot for our schools and community with their contributions! We should support them right back and stop in for breakfast, lunch, brunch, dinner or snack, you won't be sorry!!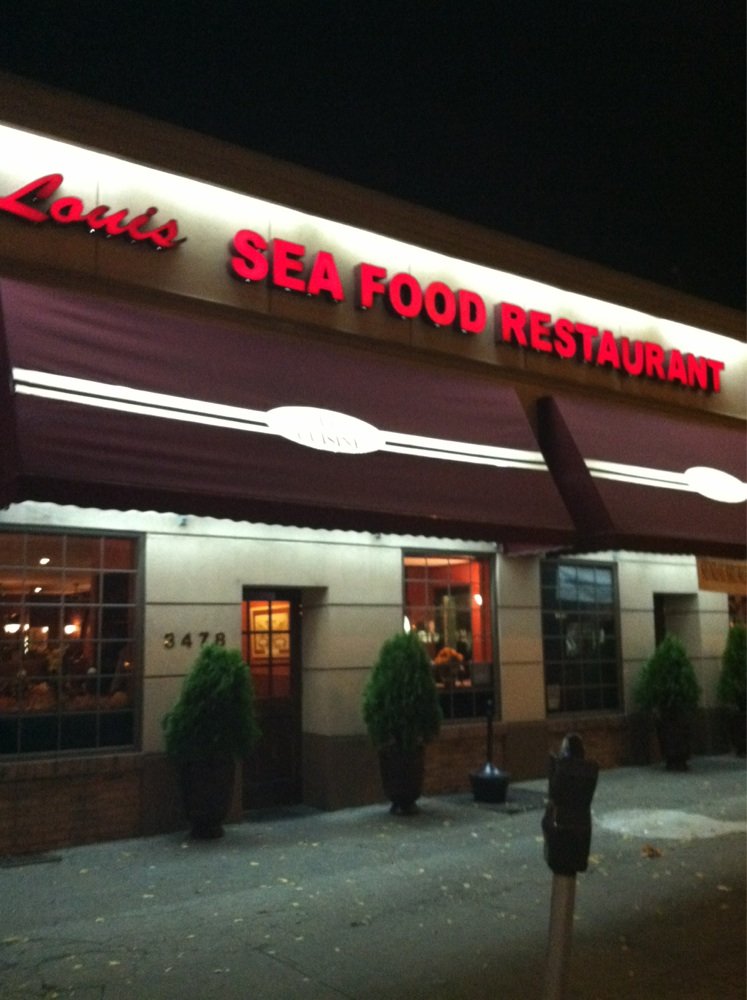 3478 E Tremont Ave
(718) 822-4600
I have had Italian food all over the world, but hands down, this is the best and it's a couple of blocks from me!
The best Italian cuisine, seafood, steaks! Today we indulged in an awesome crunchy, cheesy, saucy Margherita pizza, amazing eggplant and chicken Parmignia with ziti, lentil and chicken soup that is better than moms, and lunch specials that are huge!! Bravo to the best!! -- at Louis Seafood Restaurant.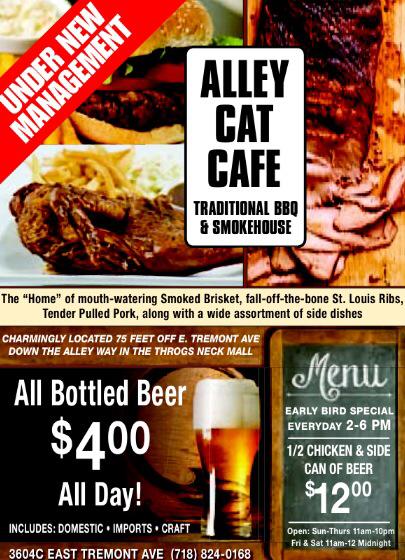 Shhhhh I know about this awesome BBQ place with the best smoked meats in the neck!! It's hidden away in this cute little alley way off of Scott's place and has inside, outside dining, a full bar, full digital jukebox and something you can't find really anywhere around here... Collard greens made like I've had down south!

Owned by Brian Silverstone, he is also the chef, Andrew that knows how to smoke them to fallin off the bones, juicy smokin tasty ribs, chicken, pork belly, brisket, beef short ribs and salmon!!! Then you pair up the BBQ with their mouth watering home made sauces of Voodoo BBQ, Apple cider Mop and my favorite Poblano Aioli, well your gonna fall in love quickly!!

The sides are kicking too with all homemade dishes such as Jalapeño corn bread, crusty bread topped Mac and cheese, baked potato, mash n gravy, potato salad, corn on the cob, creamed spinach, dirty rice, cheesy grits, and my favorite, just done right collard greens!!

Of course they have salads, burgers, wraps and a whole slew of apps that will fill you up body and soul!!

I was lucky enough to come in during happy hour which you know makes this Tasty Lady purr with a light beer of strawberry blonde!

We made the right choice of ordering the ginormous sampler which was perfect for two with 1/2 lb brisket, 1/2 rack of St. Louis ribs, 8 wings and I side. We chose the Mac and cheese and collards!

What I like about this BBQ is it's not served dripping with sauce! Hate that! Let me have control of my sauce, I'm a big girl now! And they do! The Meat is smoked just enough to give you those crispy burnt ends while the meat is juicy, off the charts flavorful and awesome dipped in one of their three sauces. Ps ranch and hot sauce are also served!

Our server was such a sweetheart and knew her stuff! I also liked the friendly casual atmosphere that I felt here!

I'll be having some good down home dreams of my country music playing on the juke box while chowing down on some awesome ribs and pork bellies and never have to leave the Bronx!! If they had line dancing, I would live here!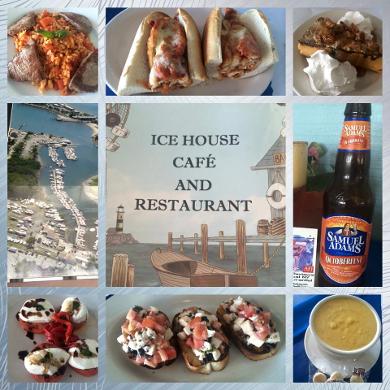 140 Reynolds Ave
(718) 863-5580
http://www.icehousecafebronx.com/
Ice House Cafe and Restaurant is like the "Cheers" of the Bronx, you know, "Where everybody knows your name... And their always glad you came" But, with great food!!
I've been dying to continue my pumpkin quest, and found a gold mind here!! I started with their scrumptious Pumpkin Corn Chowder and of course my Pumpkin Beer rimmed in cinnamon ( Thank you Kelly)
Our apps were bruschetta toast with chopped morsels of fresh mozzarella, tomatoes, olives and basil on a perfectly crunchy petite toast round! We also enjoyed fresh mozzarella over slices of beefsteak tomatoes with fresh basil!
My entree was Risotto de Manzo which was perfectly seasoned and seared filet mignon over rice that had onions, tomatoes in a tomatoe sauce that was different and delicious!!
Should I even have to mention what my "Chicken ParmaJohn" ordered? Let's not but he was very happy....as always!
We ended with a heavenly piece of pumpkin cheesecake, which I was just going to "Try" and take it home to my son, well it never made it home! But Terry to the rescue with one of their decadent cupcakes to bring home! Thank you Terry!!
I love this place, it just feels and tastes so right!!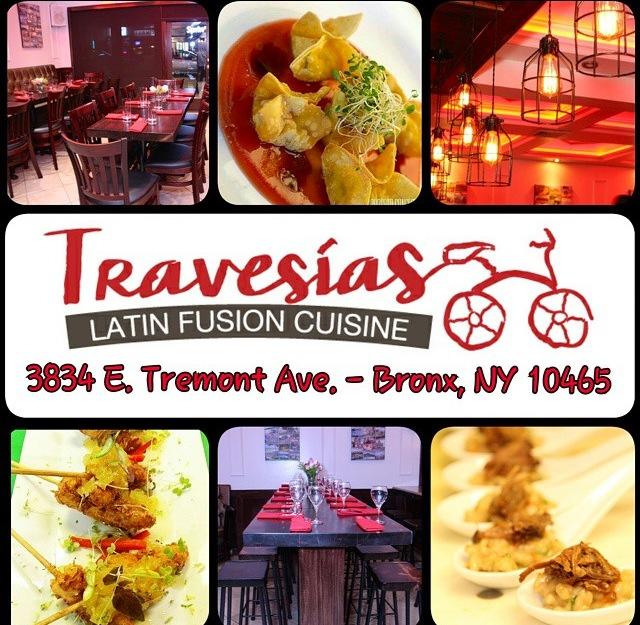 3834 E. Tremont Avenue
Bronx, New York 10465
(718) 828-3834
Travesias translated is a voyage or crossing, or in essence to travel, thus the bike motif! When you dine here, it is like you have ventured off to other lands or to an incredible international food festival!
This review took me a couple of days to prepare, because I wanted to try to capture and put on paper the phenomenal cuisine nirvana I had experienced, and I'm afraid mere words will not do this world class culinary haven justice. You will just have to go experience it immediately!
The owner Brian is a very, very smart man! No, I do not really know him, but this man did everything right. From the classy copper booths and dark mahogany tables to the tray ceiling and framed travel art on the walls to the Mural leading to the kitchen and rest rooms to hiring a top notch staff with a pure wizard in the kitchen who is his chef ( more about that later), Brian does not have a new restaurant but a total exceptional dining experience for anyone entering his domain.
On our visit we met Jose our handsome bartender, Amber our beautiful and wonderful server, Iman, an exotic beauty and charismatic manager who all treated us like we were on a concierge excursion. We were delivered drinks promptly by Jose, who's mixology talents are evident with a perfect mint Mojito and lime Margarita with salt. We decided to go with a large array of appetizers the first visit to try to experience as much as we could. Amber our server was very knowledgable, pleasant and appeasing. On this internationally vast and unusual menu, you have Bangkok Calamari, Indian Naan Pizza, Moroccan Black Bean Hummus, Argentinian Gaucho Pincho, Chile-Asian Sea Bass, their signature Ox Tail Rissotto, Pasta ala Travesias with my favorite fresh made Parppadelle and this is just a fraction of the menu!!
To say the Tasty Ladies were excited at this point was an understatement! There was no wait for food with our first app delivered of Passion Ceviche. This Peruvian inspired ceviche had fresh octopus, shrimp and black cod all marinated in an amazing, delightful citrus and Latin spice infusion!! I could not stop eating it, but then this exquisite dish came out with a blood red sweet and sour guava dipping sauce and two perfectly formed pockets of crispy golden wontons filled with heaven!!! Ok, ok it was a mixture of crab, cream cheese and scallions, but we were in heaven when we experienced them. I have to say this was my favorite!!! I will be dreaming about them and wanting them again, and again!
Unfortunately, due to one of the Tasty ladies coconut food allergy, only one of us could enjoy the Piña Colada Shrimp Skewers. I was very sad watching my partner express sheer joy over these perfectly cooked Mexican tiger shrimp marinated with Dominican rum and spices, coated in panko and coconut flakes which was served with a absolutely delicious pineapple rum and coconut glaze!
I recovered from my dismay quickly with the beautifully displayed Aracini ala Hispanola dish. Was it art or food?? We decided quickly we were much more devoted to food than art and began to devour these Rice spheres stuffed with sweet plantains, quest de hoja and longaniza ( which is cows milk cheese made in Puerto Rico and Spanish sausage). They were amazing alone, but when dipped in the accompanying avocado dip, it became magical!
You would think by this time, we would be getting full, but we just did not want to get off this memorable food adventure we were on! These pretty little sliders came out with tostones as buns and a small Dominican style burger called "Chimichurro" made of seasoned beef, pork and cabbage slaw with Travesias secret special sauce atop! Whatever you decide to order here, please make sure you start with these taste infused To' Chimi Sliders! I love the name too!
At this point, our magical cuisine wizard appeared from behind the curtain! Chef Dario is not just a passionate artist in the kitchen, but he is absolutely divine to look at as well and so charming! Introducing Chef Dario, who studied at Le Cordon Bleu, which FYI is the #1 ranked Culinary school in America ( and probably beyond), was the executive chef at FIU, and the banquet chef for the Miami Marlins. He has extensively traveled and just studied in the Dominican Republic! If this was not enough, he had his own catering company and was a culinary consultant! Ok, enough about him, back in the kitchen, get the rest of our delicious morsels out here!
At this point we started to feel like we may have over done it, and the Quinoa Tabbouleh that presented was a light, fresh perfect intermission! This was a traditional Lebanese tabbouleh with a twist of quinoa served with small tears of naan. The last but not least, was the Ole Ole Chorizo which was so satisfying and scrumptious aged Spanish style chorizo in a red wine reduction that was perfectly simmered so you still could taste the tannins in the wine! This was artfully served again on a wooden board with fresh arugula and crostini!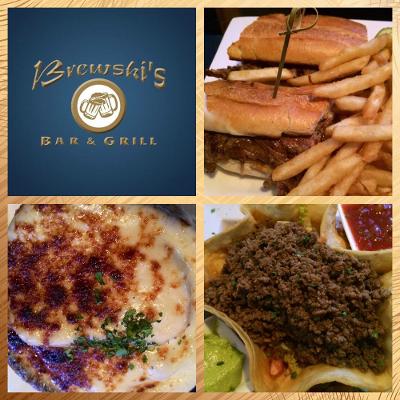 3718 E Tremont Ave
(718) 684-2900
I don't really like "Bar Food". I walked into Brewskis expecting the normal. I was shocked and very happy with the food they served!!
Onion soup was overly cheesy, great broth and only $3.95!! I ordered the taco salad and it was huge, delicious and full of ground beef!! It was the best taco salad I ever had!! My partners steak tidbit sandwich was packed and full if meat and cheese and so delicious!! The atmosphere here is also great, charged with people and energy!! Loved it!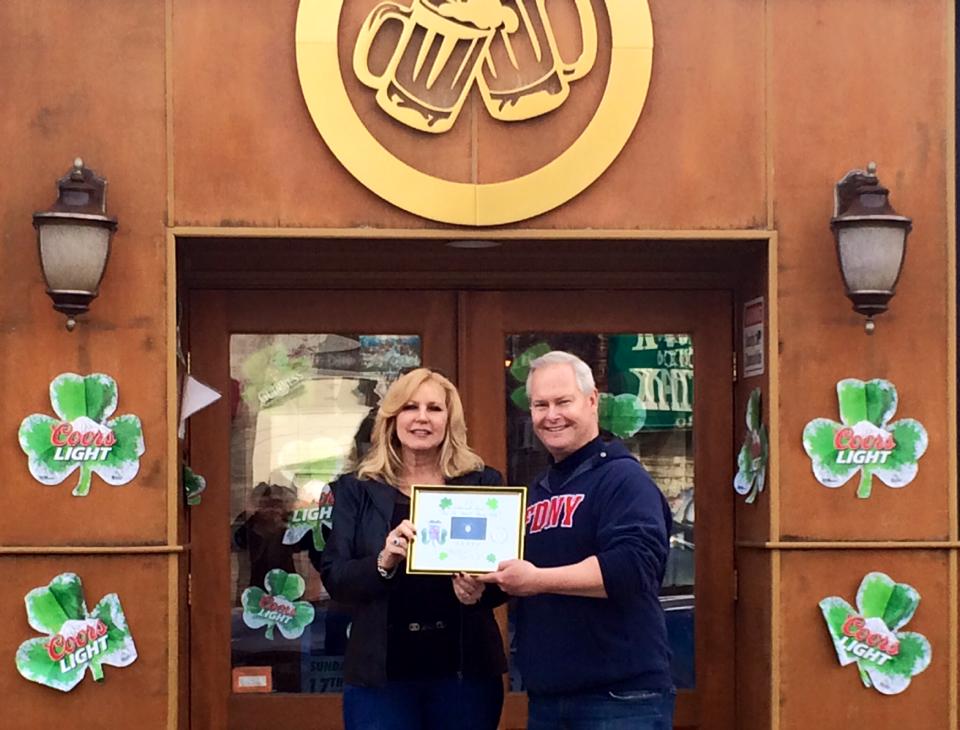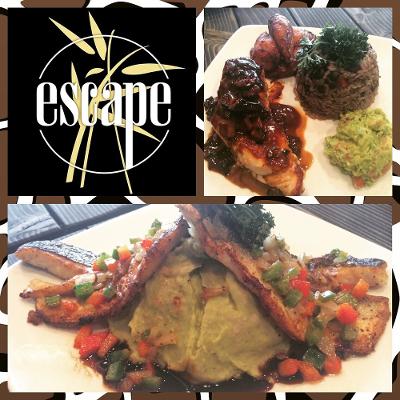 1841 Hobart Ave
Bronx

,

NY

10461

(718) 684-1860

http://escapecuisine.com/
The Tasty Ladies escaped today to a place with beautiful chocolate velvet booths, bamboo accented walls, gorgeous bar with eccentric lighting.
Our server Kristina was very warm, knowledgable and attentive and made us feel very welcome!
Newly opened in June, this small almost mysterious venue was on my mind all summer. The menu is a nice array of different dishes from your Latin fair of Churrasco to chuletas to Italian cuisine of lasagna and lobster ravioli back home to USA food of Rib Eye steaks, hamburgers and soups and salads with a lot of note worthy dishes in between such as Crispy Duck, Eggplant Cake, octopus salad and the one I will try next escape, the "Escape Delight" which is chicken breast stuffed with sweet Plantains and chorizo in a mushroom cream sauce with Black rice and avocado salsa!!
We decided to start with our favorite cocktails of a mint Mojito and Margherita which were made perfectly and strong not stingy by our server Kristina ( she is multi talented)!
The appetizer was a trio of Empanadas with beef, chicken and spinach fillings lying on a bed of mango salsa and a side of dipping chipotle mayo. They were very good but I felt they were a tad on the small side.
Of course I had to try my favorite " Ropa Vieja"! Even though this gringo lady always gets the pronunciation wrong, I have become somewhat of an expert on the dish since I've eaten it all over the world. First, the presentation was lovely with a huge mound of deliciously seasoned Saffron rice in the middle and four scoops of excellent shredded skirt steak, drained well, seasoned to perfection with crispy yet tender inside, sweet plantains around it. I have to say this Ropa Vieja was in my top 3 that I have eaten and loved!
My tasty lady partner had the Grilled Salmon that was out of this world tender and delicious with steamed asparagus and broccoli!
We did not get a chance to meet the chef, Jose Solares, but would like to extend our compliments on his menu and cuisine!
Our server asked us to try a cocktail on the house of a drink called The Mich! It was a delightful cocktail with Hendricks Gin, St. Germaine's topped off with club soda, mint leaves, limes and cucumber slices! When we return we need to escape to more places with their Coquito, Albanian Gunshot, and Italian stallion cocktails!
We did not order dessert since we were so full, but their dessert menu had Flan, chocolate mouse, 3 Leches and a chocolate lava cake to note a few!
Escape has a children's menu, 3 course lunch specials from 11-4 for $8.99, a After School Lunch Special for pick up or delivery only for $6.99 and my favorite, brunch which is a appetizer, salad, soup, main course, dessert and 2 glasses of Sangria or Mimosa for $40 per person!
Everyday they have specials of Laugh with us Tuesdays with headline comics, women in power Wednesdays with half off signature drinks, Karaoke Thursdays, kids brunch Saturdays and the longest happy hour every Monday-Friday from noon-9pm!
But the one I'm very intrigued with is the Valentine Mondays for couples, with a free bottle of wine, and 15% off two entrees!
We loved our Escape and hope you get to Escape there as well!!